For complete, daily listings of all local classes and events,
see the community calendar.
______________________________________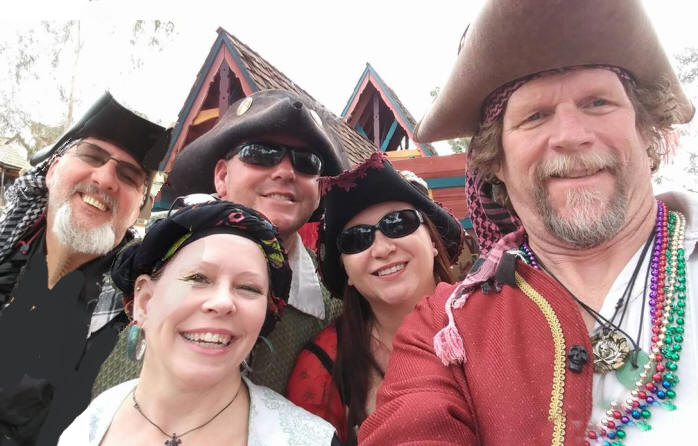 Pirate Day at Renaissance Fair

Jim Shane and friends spent Pirate Day, March 13, at the Renaissance Fair and they all had a good time The fair is located just east of Phoenix on Hwy 60, past the Gold Canyon Golf Resort. The Renaissance Fair will be open every Saturday and Sunday until April first. It is a 30-acre renaissance vallage filled with 13 stages of non-stop entertainment, acrobatics, falconry, pitrates, music, dance and comedy. Cheer your favorite at the jousting tournament. Visit the market place with over 200 shops, kitches, pubs and rides, along with nearly 2000 colorful costumes characters. $24 for adults, $14 for children 5-12.DIscount tickets at Fry's Food Stores.
____________________________________________

Tantric Sex Education Course Planned
Shastra is a Tantra teacher who recently relocated to Phoenix and is offering a four-week course, Your Sex Drive, is taking place each Tuesday at 7 pm at Kharma Life Center 700 West Campbell Avenue. The class series will explore and identify the state of our sex drive, thru gender and group dialogue. They will identify the emotional resistances and what areas of the body are the most constricted. Class 2 will be a powerful class to release from the body at least some of these areas of resistance. In Class 3 you will be taught effective "Self Pleasuring" practices for a balanced and open sex drive. Class 4 is about "Pleasuring Others", developing confidence, and learning the 'G Spot' Massage practice for women and a similar practice for pleasuring men. There is no nudity in this series. Cost is $20 per class or $60 if prepaid. You can attend one or all.
__________________________________
Course in Miracles Class Moves
The Course in Miracles class conducted by Jennifer Harmond at Rising Phoenix Church on Thursday is now being held each Tuesday at 7 pm at her office at 4637 N. 24th Street in Phoenix
__________________________________________
Learn the Tarot Court Cards
Kate Morrow will enhance your knowledge of tarot with this five week course, The Tarot Court Cards. This series of classes will delve deeper into the meaning of the King, Queen, Knight and Page cards and enhance your tarot readings whether professional or personal. Course begins Sunday March 18 at 9:30 am at Tanja's Natural Magick, 8987 W. Olive in Peoria. Cost of this five week course is $125. You must pre-register and pay a deposit of $65. Book required is The Tarot Court by Mary K. Greer and Tom Little (sold in the store).
_________________________________________
Develop Your Spiritual Consciousness
Beginning Tuesday March 20, psychic medium Lorina Quigley will conduct a six-week series of classes exploring higher states of consciousness, psychic awareness and mediumship, developing radiesthesia, new energy healing techiques, past lives and channeling, the Akashic Records and crystals. The cost is $10 per class and the classes will be held each Tuesday at 7 pm at Rising Phoenix Spiritualist Church, 1522 W. Encanto Blvd. in Phoenix
__________________________________________
Brian resigns from Pagan Pride
The Phoenix Pagan Community has a bit of a dilemma on its hands regarding Phoenix Pagan Pride Day. Brian Simpson, who has been successfully managing the event for years, has stepped down. He told the Omega Directory, "I've been doing this for five years and it's time for someone else to take charge. With new perspective comes new growth." Maia Dawn Wolf says, "There is now a BIG void to fill. If no one comes forward to run the event, there will be no Phx Pagan Pride Day this year. So, who would like to step in and take this grand adventure over? As an incentive, I will gladly help you and even take on a committee for you, if you chose to do this. . . . Phoenix Pagan Pride Day is a beast and always, always, always comes with a set of challenges that make you grind your teeth together, however, it is also one of THE BEST things you will do for yourself and your community. If you want to test yourself, now's the time to do it. Contac ne and I will get you pointed in the right direction with National. I look forward to working with you." If you are interested call (602)703-4508.
_____________________________________________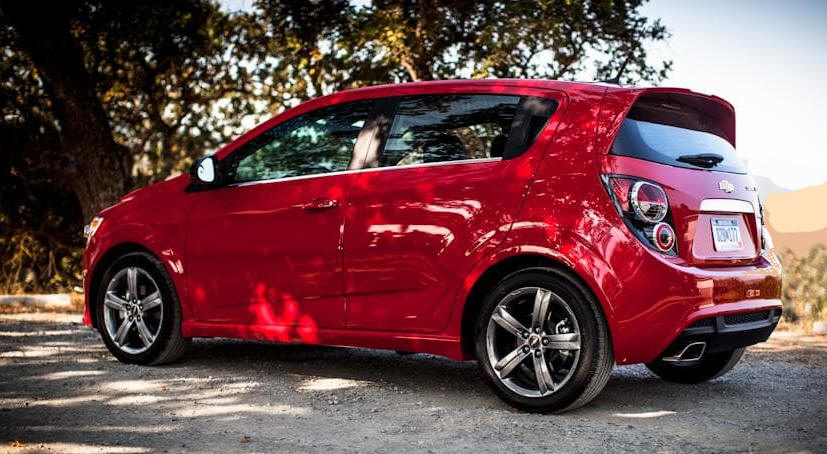 Dr. John finally gets transportation
Rev. Dr. John E. Rodgers and his wife Joy now have a car to get around in. They wish to thank everone for their prayers and assisstance. Dr John was on his way to speak at Sun Spiritualist Camp in Tonopah December 9 when his car was struck and totally destroyed. He was amazingly uninjured except for a few aches and bruises. After the medics checked him out and the car was hauled off, the tow-truck driver dropped him off at the church and he was able to deliver his speech only half an hour late. From beginning to end, the day was a miracle.
_____________________________________
Kathy Wayne passes
A regular customer of Alpha Book Center, Kathie attended a lot of classes there and was well known. She was born in Ohio and died of a stroke January 24 at the age of 53. Funeral services were held February 6.
_____________________________________
Az family haunted by Yiddish ghost
A West Phoenix family claims they are being haunted by a Jewish "ghost". Home owner Rudy Calderon says the problems began on December 21st. The first incidents seemed like pranks but he got worried a few days later when both of his bathrooms mysteriously flooded and he found some strange letters on the wall written using something like charcoal. Calderon uploaded a video of the writing to social media and someone identified it as the Yiddish word for "danger." While paranormal activities may not be rare, but Jewish ghost stories are. The popular Hebrew word for ghost is dybbuk, which is a wandering soul that can take over a person and control their actions, and sometimes often offer guidance and direction. The Calderon's are not Jewish but it sounds like they could use the help of a rabbi experienced in Kabbalah—magical branch of Judaism. The rabbi would most likely blow a shofar (trumpet) to separate the ghost from that which it possesses. He would then comfort the ghost and help determine what unfinished business it had. The exorcist would also say prayers to help protect the house and its inhabitants. So far the Calderon's have not yet found a rabbi to help them.
____________________________________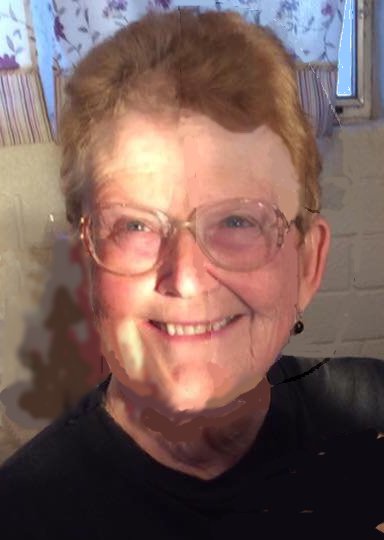 50 Big ones
Rev. Leslie Saunders, director of Sun Spiritualist Camp in Tonapah, and her husband Cal celebrated their fiftieth wedding anniversary in Branson, Missouri, enjoying the entertainment
___________________________________________________________
Free course in metaphysics offered
The Omega Directory is conducting an on-going Course in Metaphysics. The classes are being held at 10:30 am Sunday at the Omega Directory, 6418 S. 39th Avenue in Phoenix. The curriculum is based on the seminary program Rev. Dr. John E. Rodgers conducted for many years. Class handouts are furnished with each class. Students may attend any or all classes. Completing the entire course and the final exam, students will receive a certificate and may be ordained as a spiritual counselor or New Age minister. The course is FREE, because there should be no charge for spritual information. (more information)
____________________________________

Mark Bailey is troubled
A popular teacher at Fantasia, 5108 N. 7th Street in Phoenix, Mark Bailey says he's feeling fine now that he has his new insulin pump. But he is disturbed because he is getting Facebook contacts from Ghana. "I do not know anyone living in Ghana, working in Ghana, or even remotely associated with Ghana," he says. "I can only assume that it is a phishing attempt from someone that wants to scam me It is sad that I have to look into requests for friends."
__________________________________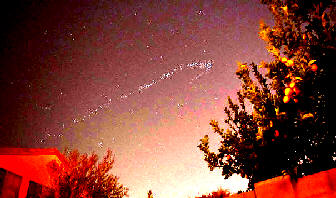 Queen Creek lights mystery solved
Mysterious lights appeared in the sky over Queen Creek the night of December 18. They formed a long cluster and changed formation at one point, according to those who spotted them. Many residents snapped photos of the lights as they moved through the sky around 8 p.m. With no official word on what the hundreds of lights were, theories ranged from nighttime skydivers to LED lights tied to drones. Some even think they may have been visitors from outer space. One observer suggested a large UFO, with city lights reflecting on it and on its gaseous contrail. The true source is almost as strange. click here
________________________________________
Omega Directory will be closed Easter
In the past years, services were held on Easter Sunday. This year the Sunday morning class will not be held because Rev. Dr. John Edwin Rodgers has accepted an invitation to speak at Sun Spiritulist Camp, 2525 N. 355th Ave. in Tonopah. Dr John will be speaking on Jesus & Metaphysics. He says you will hear suprising and unusual things about Jesus, things you may have never heard before.
___________________________________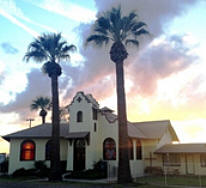 Local church listed on National Register
Liberty United Methodist Church will receive its official historical marker on Sunday, April 8 during a dedication ceremony at 3 p.m. at the church, located at 7598 S. Liberty School Rd, in Buckeye. Services have been continuously held in the original building since 1911. The church was listed on the National Register of Historic Places on December 28, 2017
______________________________________________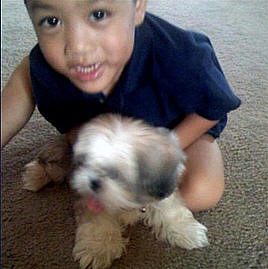 Dog goes from Phoenix to Phenix & back
Seven years ago a Shih Tzu puppy named Teddy strayed from the Sisamouth home here in Phoenix. Early in December the family received a call from a shelter in Phenix City, Alabama, 1806 miles away. The shelter read the microchip on the dog and identified him. They called Lay Sisamouth to say they found the puppy. Unbelievable!! How did this all happen? Lay's wife, Melissa, said the puppy was found by a military family. Not knowing about the microchip, they could not identify the puppy so they kept it. They moved around the country and ended up in Phenix City and gave the puppy away when they could no longer keep it. Teddy ended up in an animal shelter, with the microchip still registered to the Sisamouth family. Lay flew to Phenix City to pick up the dog who still recognized the family
____________________________________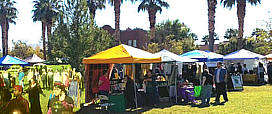 Phoenix Pagans can be proud
The 2017 Phoenix Pagan Pride Day came off wonderfully. The day was sunny (most of the time), there was a good turnout and everyone had a great time. Bryan Simpson and his crew were very helpful and much appreciated. Next year's event will be here before you know it!
___________________________________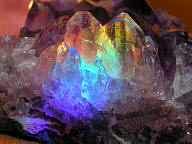 Everyone is using crystal light therapy
You know about the healing power of crystals. But did you know that right here in the Valley is a company that manufactures many different devices that use the healing light of crystals. It's Stellarwaves and you can contact them in Mesa at (480)212-6747.
________________________________
Metaphysical stores win awards
Phoenix New Times newspaper awarded both The Astrology Bookstore, 5735 W. Glendale Ave in Glendale, and Vision Quest, 3114 E. Indian School Rd in Phoenix, their annual "Best Of" awards. These awards are given each year by the newspaper to the best businesses in various categories.
________________________________
50-year-old store ends its mission
The idea of the Alpha Book Center arose in the mind of Rev. Dr. John E. Rodgers in 1967. Its purpose was to be a place for metaphysics and New Age ideas. The store grew and moved steadily year after year, paving he way for other stores to begin. But, after nearly half a century, Dr. John decided the store had done its job and it was time to put it to rest. August 11 the store's mission ended when the door was closed for the last time.. The history of the store can be found in the encyclopedia listing. Any unsold merchandise is available Sunday afternoons, after class, at the Omega Directory, 6418 S. 39th S. 39th Avenue in Phoenix
_________________________________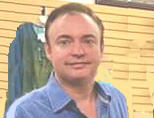 Medium event scheduled for daytime
Many people cannot get out a night. Group Medium Day is Dave Campbell's effort to provide a medium experience for those who can't usually make the regular night time Group Medium . Dave will still conduct his night time group and will be doing medium readings for the audience, just like in evening event. This will be held Saturday April 21, from 2 pm-4 pm Cost is $25.
________________________________
Healing the planet one person at a time
This year World Tai Chi & Qigong Day will occur April 28 and it will be here before you know it. What organizers should do: 1) Organize your event, 2) Get your information to the Omega Directory, 3) Get local/state/national government bodies and officials to officially recognize your event.